Posts for: March, 2018
By Heights Dental Center
March 20, 2018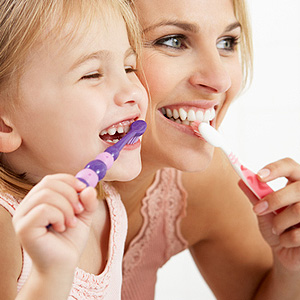 We all have habits: things we do every day often without consciously thinking. Some of them are good; some not so much. And many of them took root in childhood.
That's why it's important to help your children form good habits in their formative years, especially regarding oral health. Here are 4 areas to focus on developing good dental habits — and avoiding bad ones.
Keep teeth and gums clean. The best defense against dental disease is stopping plaque, a thin film of bacteria and food particles, from building up on tooth surfaces. That means brushing and flossing each day, along with regular dental cleanings and checkups. You should begin cleaning your child's teeth as soon as they appear in the mouth with a clean towel or rag at first and later brushing them. Eventually, teach your children to brush and floss for themselves. Dental visits should also begin around their first birthday.
A nutritious diet equals healthy teeth. The saying, "You are what you eat," is especially true about teeth. Help your child form a nutritious diet habit by providing meals rich in fresh fruits and vegetables, quality protein and dairy products. You should also restrict their sugar intake, a primary food for bacteria that cause tooth decay; try to limit sweets to mealtimes and avoid constant snacking.
Avoid habits with hidden dangers. Actually, this one is about you — and what you might be doing to increase your child's risk for dental disease. Avoid actions that increase the chances of transmitting oral bacteria from you to your infant, like kissing on the lips or licking a pacifier to clean it. You should also avoid giving your child night-time bottles or sippy cups filled with milk, formula or any sweetened liquid — likewise for pacifiers dipped in something sweet.
Steer them away from future bad habits. As children become teenagers, they're eager to stretch their wings. While this is normal and good, they can get into habits with dire consequences for oral health. You should by all means steer them away from tobacco use or oral piercings (tongue and lip bolts especially can wreak havoc on tooth structure) that can harm their teeth and gums.
If you would like more information on dental care for children, please contact us or schedule an appointment for a consultation. You can also learn more about this topic by reading the Dear Doctor magazine article "Dentistry & Oral Health for Children."
By Heights Dental Center
March 05, 2018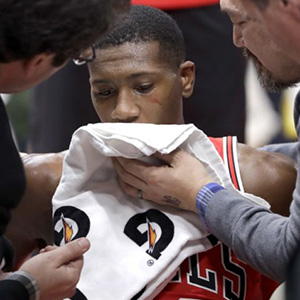 For lots of sports fans, March is the month to get caught up in basketball "madness." But many people forget that basketball—whether it's played on a school court or a big-city arena—can be just as dangerous for your teeth as some "full-contact" sports. Just ask Chicago Bulls point guard Kris Dunn. In the last three minutes of the January 17 NBA game between the Bulls and the Golden State Warriors, Dunn stole the ball and went in for the dunk. But the momentum from his fast break left him tumbling head-over-heels, and his face hit the floor.
The game stopped as Dunn was evaluated by medical staff; they found he had dislocated his two front teeth. The next day, the Bulls announced that his teeth had been stabilized and splinted—but Dunn would be out indefinitely because of a concussion.
Teeth that are loosened or displaced are known in dental terminology as luxated. These are fairly common dental injuries in both children and adults—but surprisingly, they don't always produce painful symptoms. Treating luxated teeth generally involves repositioning them and then splinting them in place for stability. Depending on the severity of the injury, the outlook for splinted teeth can be quite favorable. However, it may involve several treatments over a period of time—for example, a root canal if the tooth's inner pulp has been damaged, and possibly additional restorative or cosmetic work.
If the injured teeth can't be saved, they can usually be replaced by dental implants or a bridge. Bridges rely on adjacent teeth (also called abutment teeth) for their support. These teeth must be prepared (reduced in size) to accommodate the dental crowns that will hold the bridge in place, as well as the ones that will replace the missing tooth or teeth. Dental implants, today's gold standard of tooth replacement, are supported by root-like inserts made of titanium that are set directly into the jawbone. These dental implants support lifelike crowns that look and feel like natural teeth, and can last for years with routine care.
Better still, many dental injuries can be prevented by wearing a protective mouthguard. We can provide a custom-fabricated mouthguard, made from an exact model of your bite, which offers the maximum in comfort and protection. This is a vital piece of safety equipment that should be part of every sports enthusiast's gear.
With good dental care, it's a sure bet that Kris Dunn will be smiling when he returns to the court. We wish him a speedy recovery.
If you have questions about treating injured teeth or obtaining a custom mouthguard, please contact our office or schedule a consultation. You can read more in the Dear Doctor magazine articles "Trauma and Nerve Damage to Teeth" and "Athletic Mouthguards."